Semrush. In today's hyper-competitive digital landscape, businesses strive to gain a competitive edge and maximize their online presence. This pursuit necessitates a robust digital marketing strategy that relies on data-driven decision-making. Enter Semrush, an all-in-one digital marketing platform that has gained significant acclaim for its comprehensive suite of tools. This article provides an in-depth Semrush review, exploring its key features, benefits, and drawbacks. By the end, you'll have a clear understanding of whether Semrush is the right solution for your digital marketing needs.
I. What is Semrush?
Semrush is a powerful digital marketing toolkit that offers a wide array of features and tools to enhance your online visibility. Its core functionality revolves around search engine optimization (SEO), pay-per-click (PPC) advertising, content marketing, social media management, and competitive research. Semrush enables businesses to conduct thorough keyword research, track their rankings, audit their websites for SEO issues, analyze competitors' strategies, and more. With its user-friendly interface and robust data analytics, Semrush empowers marketers to make informed decisions and drive organic traffic to their websites.
II. Key Features of Semrush
Keyword Research: Semrush's Keyword Magic Tool provides a vast database of keywords, helping users discover relevant and high-ranking keywords for their content and advertising campaigns.
Competitive Analysis: With Semrush, you can gain insights into your competitors' strategies, including their organic and paid search performance, backlink profiles, and advertising strategies. This knowledge enables you to refine your own marketing tactics.
Site Audit and On-Page SEO: Semrush performs comprehensive website audits, identifying technical SEO issues, suggesting improvements, and providing a clear roadmap to optimize your site's performance.
Backlink Analysis: Semrush allows you to analyze your backlink profile, evaluate the quality of your links, and identify potential opportunities for building high-quality backlinks.
Content Marketing Toolkit: Semrush offers a suite of tools for content creation and optimization, including topic research, content analysis, and content optimization recommendations.
Social Media Management: Semrush provides social media scheduling and monitoring features, allowing you to streamline your social media activities and track the performance of your campaigns.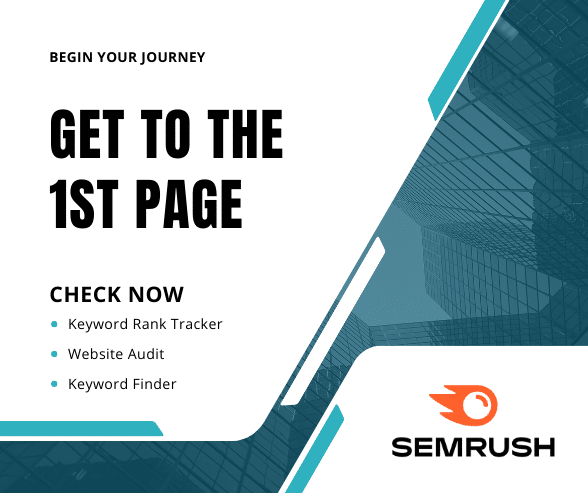 III. Benefits of Semrush
Enhanced SEO Performance: Semrush equips you with the necessary tools to improve your organic search rankings, optimize your website's technical aspects, and conduct effective keyword research.
Competitive Advantage: By analyzing your competitors' strategies, you can gain insights and adjust your own marketing tactics to outperform them.
Comprehensive Reporting: Semrush offers detailed reports and analytics, allowing you to track your progress, identify areas for improvement, and demonstrate the effectiveness of your campaigns to stakeholders.
Time and Cost Efficiency: With Semrush's all-in-one platform, you can streamline your digital marketing efforts, eliminating the need for multiple tools and reducing costs associated with separate subscriptions.
Expansive Data and Insights: Semrush provides access to a wealth of data, enabling you to make data-driven decisions and uncover valuable market insights.
IV. Drawbacks of Semrush
Complexity for Beginners: The extensive range of features and data provided by Semrush may overwhelm newcomers to digital marketing, requiring a learning curve to fully leverage its potential.
Pricing Structure: Semrush offers different pricing plans, which can be costly for smaller businesses or individuals with limited marketing budgets.
Interface Navigation: Some users have found the Semrush interface to be slightly complex, making it less intuitive for beginners.
V. Semrush Pricing Plans
Semrush offers different pricing plans to cater to various business needs. The plans are designed to accommodate businesses of all sizes, from startups to enterprise-level organizations. The pricing tiers include:
Pro: This plan is ideal for freelancers, startups, and small businesses. It offers essential features such as keyword research, site audit, backlink analysis, and limited access to data. The Pro plan starts at a competitive monthly rate.
Guru: The Guru plan is suitable for growing businesses and marketing agencies. It includes all the features of the Pro plan, along with additional features like branded reports, historical data, and extended limits for data and projects.
Business: The Business plan is designed for larger organizations and agencies with extensive marketing needs. It provides advanced features like API access, white-label reports, Google Data Studio integration, and the ability to share access with multiple users.
Custom Enterprise: For enterprise-level businesses with specific requirements, Semrush offers custom plans tailored to their needs. These plans include advanced features, dedicated support, and customized solutions.
While Semrush's pricing may be a consideration for some businesses, it's important to weigh the features and benefits provided against the investment required to determine the plan that best aligns with your marketing goals and budget.
VI. Customer Support and Training Resources
Semrush places a strong emphasis on customer support and provides a variety of resources to assist users in maximizing the platform's capabilities. They offer 24/7 customer support via email and chat, ensuring prompt assistance for any queries or issues. Semrush also provides extensive documentation, tutorials, webinars, and a knowledge base to help users navigate the platform and utilize its features effectively. Moreover, they have a vibrant community forum where users can engage with fellow marketers, exchange ideas, and seek advice, fostering a supportive learning environment.
Semrush has established itself as a leading digital marketing platform, offering a comprehensive suite of tools that empower businesses to enhance their online presence. With its extensive features, valuable insights, and robust data analytics, Semrush equips marketers with the resources they need to drive organic traffic, optimize their websites, and gain a competitive advantage. While there may be a learning curve and pricing considerations, the benefits of Semrush outweigh the drawbacks, especially for businesses and marketers seeking to make data-driven decisions and maximize their digital marketing efforts. Whether you're a seasoned professional or a newcomer to digital marketing, Semrush can be a game-changer in achieving your marketing goals.
Conclusion
Semrush is undoubtedly a robust digital marketing platform that empowers businesses with valuable data and tools to enhance their online visibility. With its comprehensive suite of features, Semrush simplifies various aspects of digital marketing, ranging from SEO and content creation to social media management and competitive analysis. While the learning curve and pricing structure may pose challenges for beginners or smaller businesses, Semrush's extensive data and insights, combined with its ability to streamline marketing efforts, make it a valuable asset for experienced marketers and enterprises looking to gain a competitive edge. Ultimately, Semrush proves to be a versatile tool that helps marketers uncover new opportunities, refine their strategies, and achieve their digital marketing objectives with confidence.